ComponentFinder Improvements and More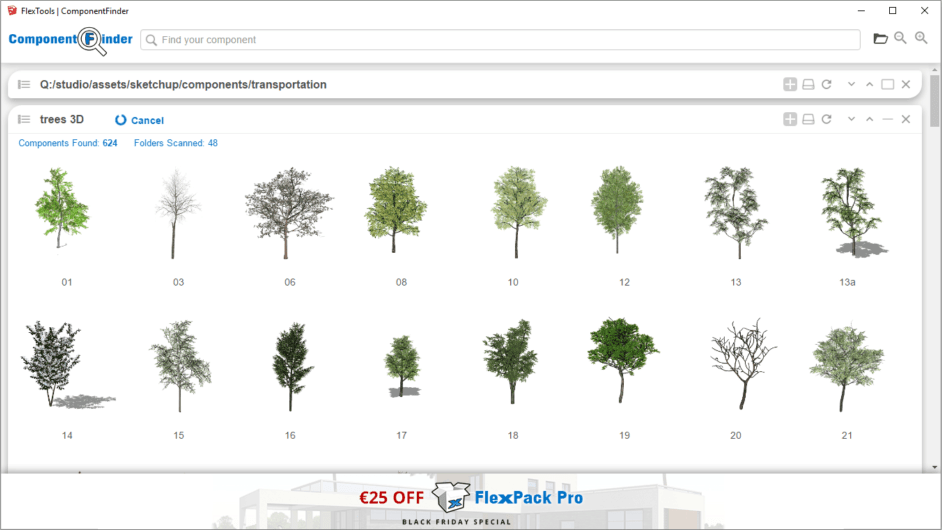 Glad to announce some exciting and significant improvements and bug fixes for ComponentFinder, for WallCutter and for the Core Extension.  These improvements are based on customer feedback.  Keep it coming!
This update is relevant to FlexPack Pro, FlexPack 2017 and to ComponentFinder customers.
Important! This update will only work with Sketchup 2017 and up.
Below are the highlights:

 The folder scanning depth is now increased from 5 levels deep to infinity! (and beyond...
)
 The maximum number of components in an open folder tab is now up to 6000!

 When opening a new folder tab, the scanning will be going on in the background so you can continue working while it's scanning. Components will be added as they are discovered.

 You can now cancel the scan anytime.

✅ Faster loading of open folder tabs during CF startup.

 An additional larger zoom level
was added.
 The annoying bug where components' thumbnails would suddenly break? Squashed!
. . .


 Fixed a bug where SU would crash when a wallcutter component was placed on a wall with projected textures.

Automatic Updates System (Core Extension)
 A major bug fix which will reduce the number of SketchUp restarts after an update to 1.

 . . .
To see all the changes, check out the FlexTools Release Notes. The notes have been updated too, so it's now easier to browse the changes by category.
How to update?
Cheers,
Yoni & the Team