Get the latest releases with FlexPack Pro!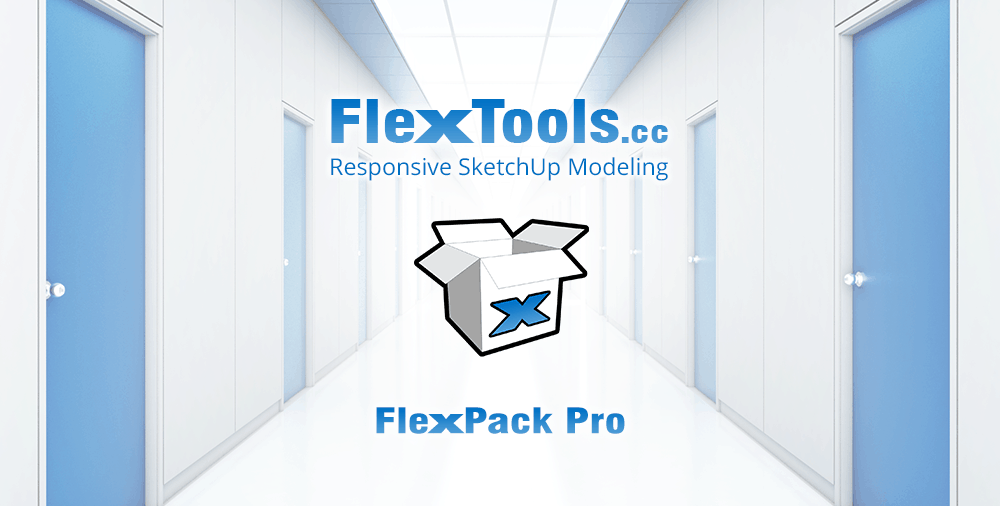 We've recently made some important changes to the FlexTools packages.
Over the past year, we have released numerous additions and updates, and we have many more in the pipeline!  Rather than wait for new components and tools to accumulate, and release them as a 'new yearly package', we've decided that to better serve you, the additions will be released as soon as they are ready!  The new features will be available as part of a new package called FlexPack Pro.
FlexPack Pro includes
All the components and tools that have been developed so far.
New components, tools and features that will be released during a one year period from the date of purchase.
Dedicated customer support for one year.
FlexPack Pro
€99
FlexTools Platform
Zapper, Cleaner, Refresh, Flip, Planview, Open/Close, ComponentFinder
FlexDoor
FlexWindow
FlexTrapezoid
FlexSlat
FlexPanel
New Products for a Year
Support for a Year
Automatic Updates

Works with Sketchup 2017, 2018

Windows and OS X
What's coming up next?
At the moment we are working on the following additions:
Slider Window
Double-Hung Window
Awning and Hopper Windows
Casement Window
ComponentFinder improvements
WallCutter - Our major new development: People who have tried it, are truly excited, calling it a real game-changer!  Let's just say, once you use it, and see what tremendous amounts of time it saves, there's no going back!
We like to make sure everything is rock solid before it's released.  Further announcements will be made when each addition is ready.
What happens after a year?
At the end of your personal Flex year, if you love using FlexTools and want more, you'll be able to subscribe for another year of new products, updates and support.
In case you decide not to renew your FlexPack Pro, no worries.  The extension will continue working, yet updates will stop coming in.
Existing customer?
If you've bought any Flex products before, you can get FlexPack Pro at a reduced price.  You will get a personal promo code sent to your email during our next update.
If you've recently bought FlexPack (starting June 21st 2018), you already have FlexPack Pro.
What happened to the 'Single Component' packages?
Single component packages are no longer available.  We noticed that maintaining multiple products was taking too much time and effort.  We will now be spending the extra time we've saved on further development of FlexTools.
As we constantly work to improve FlexTools with new features, increasing your modeling productivity and saving you precious time, we truly appreciate your continued support.  It's what keeps us going!
Let us know if you have any questions.
Yoni, Max & Daria
The FlexTools Team