New Flex Slope Component and More!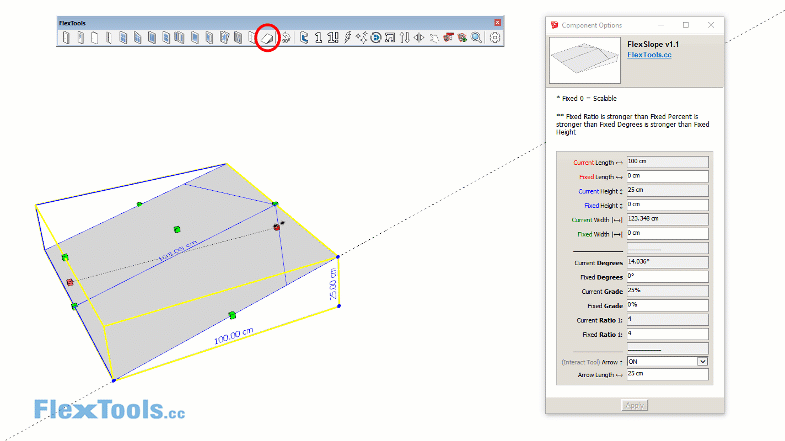 New FlexSlope Component
Easily calculate ramps, car parks, roofs, etc. with this new component that is now available with the auto updates for FlexPack Pro. (The original, simpler beta version is available for free download at the FlexLabs.)
Scale the component freely or fix the slope in degrees (°), in grade (%) or with a set ratio (1:X) to calculate how high, or how far the slope should reach.
Window Muntin Distributions Updated

The following window components have been updated:  Slider, Double-Hung, Casement-Double, Fixed, Casement-Single and Hopper/Awning window.
Traditional Chinese and Japanese Translations Updated
All the components and tools and the plugin's interface are now fully translated to Traditional Chinese and to Japanese.
Special thanks to Tom Charles our reseller from Sketchup Taiwan for the Traditional Chinese translations.
Many thanks to Takahiro Terasawa from Architect 7 for the Japanese translations.
Improved Auto Updates
We made a few modifications to the auto updates system. We hope this will improve future updates to come through smoothly for slower internet connections.
Note: This change will only be noticeable in the next update.
See the full release notes.
How to update?
Have new ideas for FlexTools? Feel free to suggest and vote on others' ideas here.