ComponentFinder is a tool for quickly filtering and managing your components, all within Sketchup.  Our friend Minh Tran from Architecture Inspirations did an excellent job explaining how to use ComponentFinder.
 Read below to to see all the features - There have been some major updates since the video.

First things first, choose which components from your hard drive you're going to work with, and open them in ComponentFinder.

Choose a folder, or a few folders (holding Ctrl or Shift when selecting) with components from your hard drive.
Each folder will appear as a separate ComponentFinder tab showing all the components within that folder, including the contents of sub-folders too.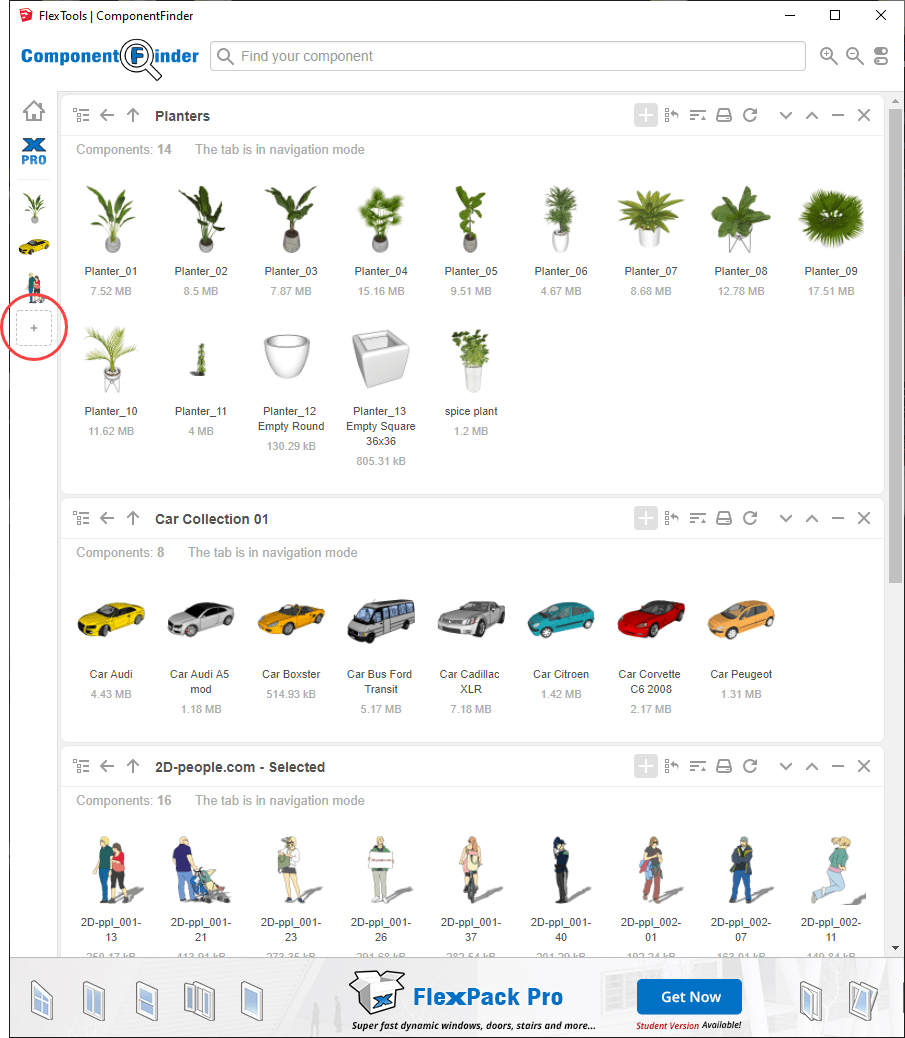 Enter keywords to filter through the open tabs.  Matching components will be displayed.
Click on any component and place it into your model.

Make the thumbnails larger or smaller.

Show or hide file Names, Sizes and Date Modified.
In each folder tab you have two ways to view the components:

Flat View  (Default)

See all the components in the current folder and in all of its sub-folders and in their sub-folders... (up to 5 levels deep).

Nav View
The familiar browsing view of folders and components. Great for navigating and focusing on a specific folder and its contents.
Save Selected Component into Folder

Let's say you've made some changes to a component and you want to save it for later use.  Select the component, find the folder you want to add the component into and click on its blue [+] button.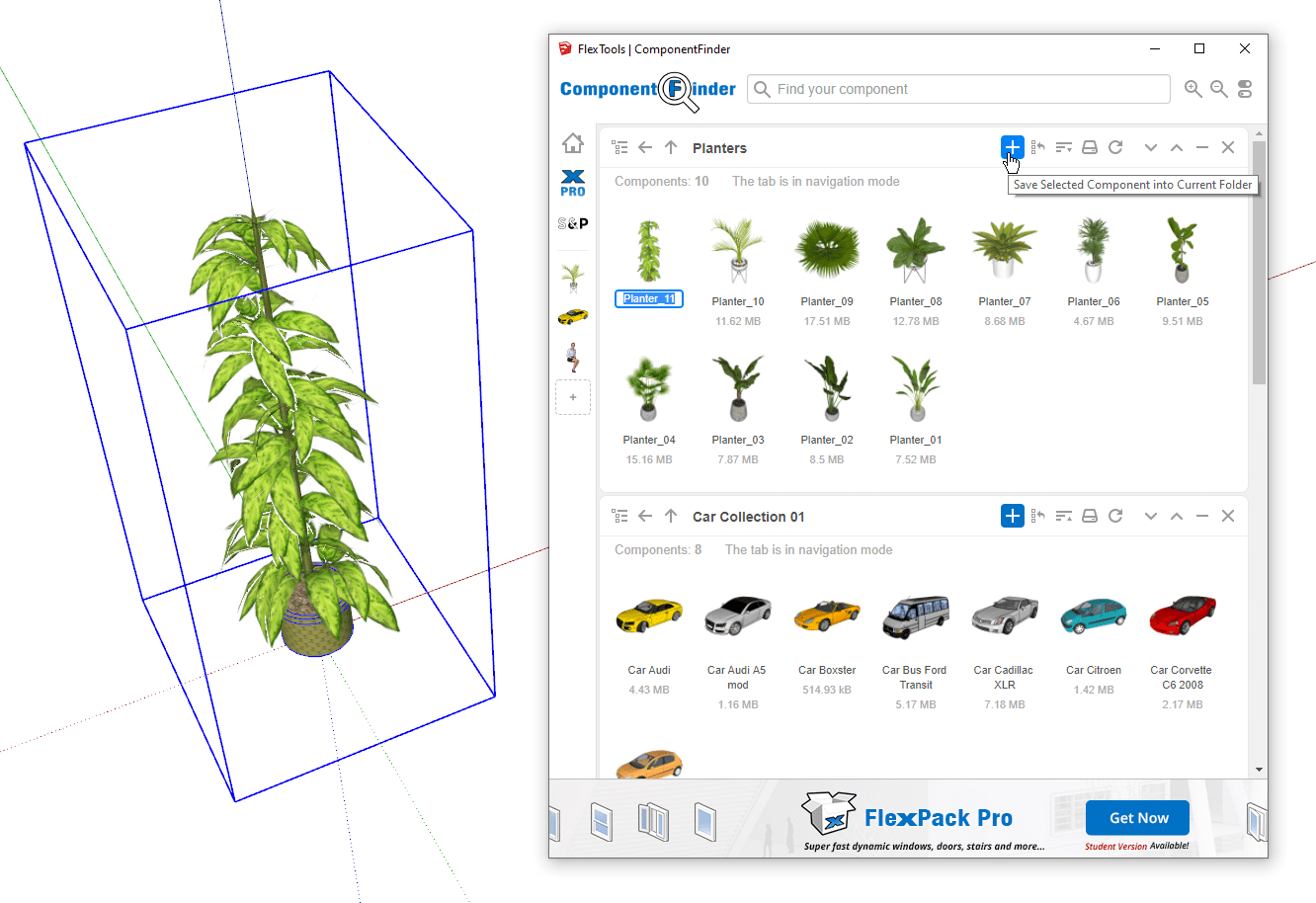 Make a toolbar from any folder in one click.
Component toolbars can be docked on any side of the screen and will stay in place from session to session until they're closed - just like regular Sketchup toolbars.
  If you've created a components toolbar and then made changes to the components in the original folder - the toolbar will be updated the next time you open Sketchup.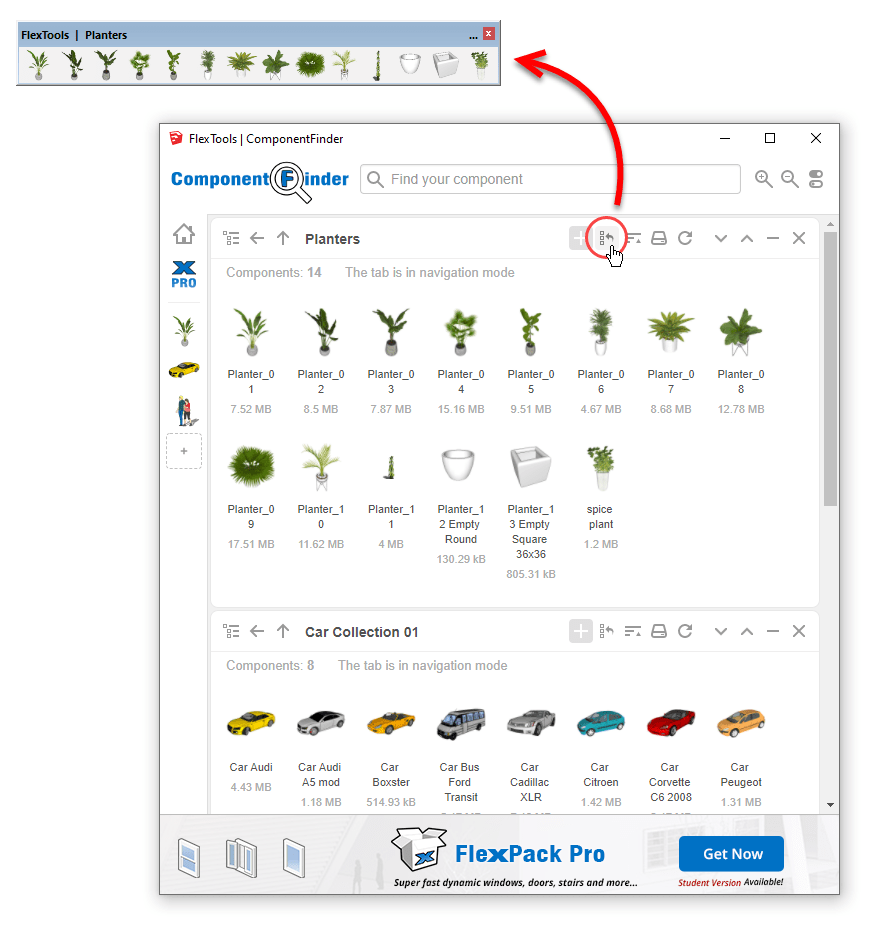 Sort components by their Name, Size or Date Modified.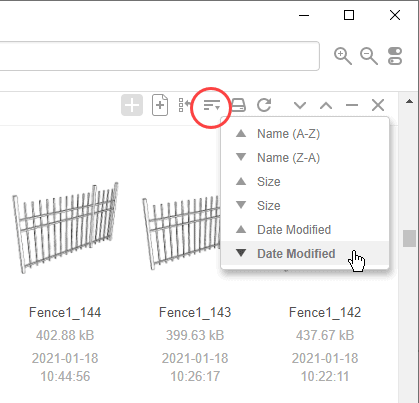 Click to open the original folder in Windows Explorer / Mac Finder that the current folder tab is referring to.

If you've made file and/or folder changes in Windows Explorer / Mac Finder, you may need to refresh ComponentFinder's folder tabs.  Click to refresh.
In ComponentFinder you can find, sort, open and save not only components, but your project models as well!
To save your current model into ComponentFinder Click on the 'Save Model' button at the top of the folder tab.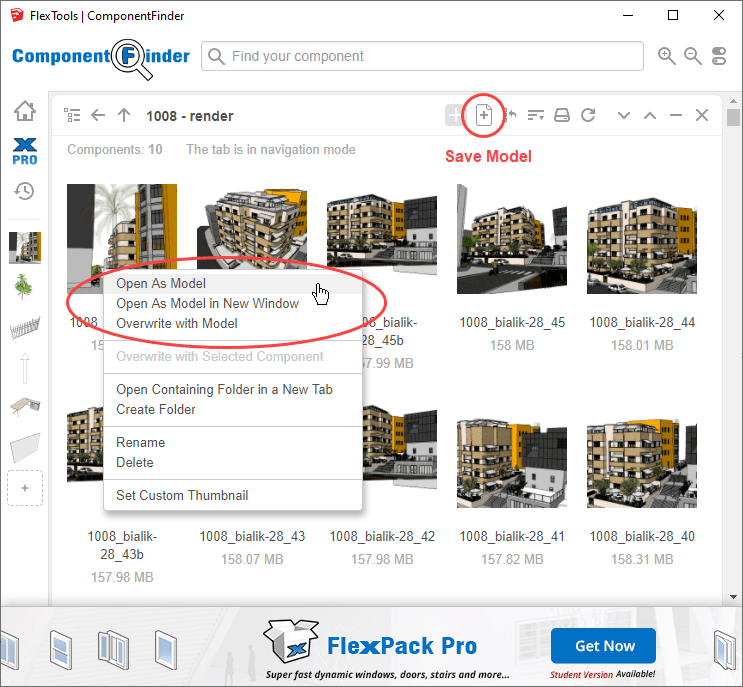 To open a component as a model: Right Click > 'Open as Model'
To replace it with the current: Right Click > 'Overwrite with Model'
Another way to save quickly into a folder: Right Click in empty space > 'Save Model' (or Component).

Overwrite with Selected Component
This saves a component you've selected in the model, over the component you just right clicked on.  (Model => ComponentFinder)
Use case example #1:
Let's say you have a component in your library that you want to make changes to, and then save it back.
Pull it in.  Make your changes.
Right click on the original in the ComponentFinder folder tab >  Replace with selected instance => The component in the library is updated.
Use case example #2:
This is also a great way to quickly update component thumbnails.
Pull in a component
Change the  camera view
Right click on the component > Replace with selected instance => Thumbnail updated.
Open Containing Folder in a New Tab
This will open a new folder tab pointing to a folder where the right clicked component is located.
Use case example:
Let's say you have a folder called People.  In that folder you have another folder called People-3D and a lot of other folders with all sorts of people.  You open a ComponentFinder folder tab that is pointed at People.  It's set to Flat File View since you want to see all your people in one place.  What you want to do is save a 3D dude from your currently open model into the People-3D folder.
If you were to click on the blue [+] button, the save dialog would open into the root folder (People) - Probably not where you want to save your lovely 3D dude to.  Instead,
Right click on another 3D dude that is already in the currently open folder tab > Open containing folder in a new folder tab =>  Voila, the People-3D folder is open!  Now you have a better view of where you're saving to.
Click on the [+] button on the newly opened folder tab to save the component.
Rename
Rename the component for easy searching.
Delete
Say bye-bye
to a component!
Warning
  Once a component is deleted it won't be in your trash bin - it's gone forever!
Feel like jazzing up SketchUp thumbnails with your own? Want to see your rendered images instead of V-ray proxies?
You can now assign your own thumbnails with custom images:
Right Click > Set Custom Thumbnail > Choose a JPG or PNG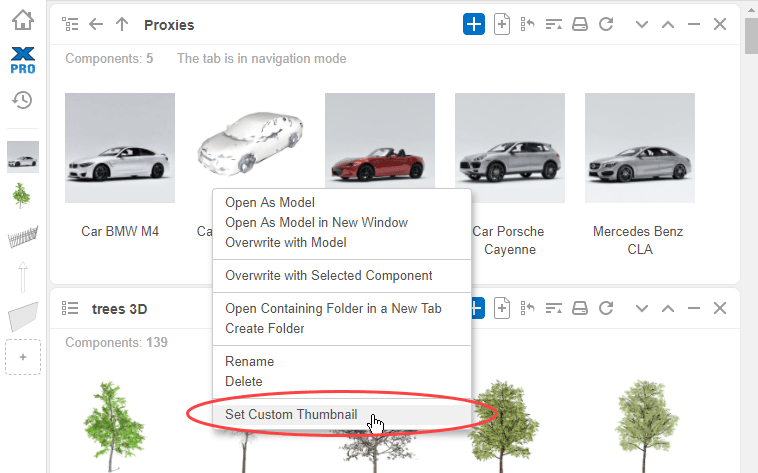 The thumbnail image you assign will be automatically copied into the folder where the component is stored, and it will be named with the same name.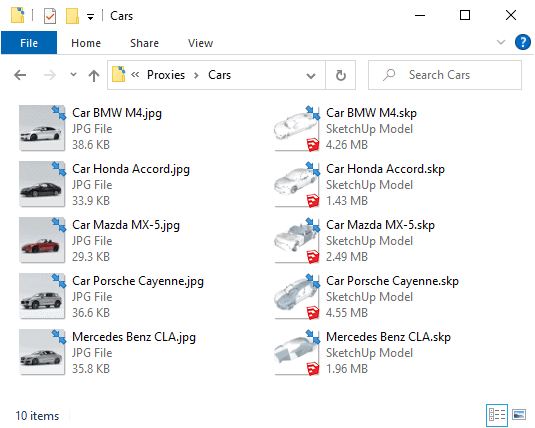 View in Windows - custom thumbnails are saved along side the skp files

Click on the 'Home' button (or double click below the search field) to open the 'In-Model' components tab.
The In-Model tab shows you components and groups that are currently in your model.
It also has 2 different viewing modes, but they are a bit different from the regular folder tab views mentioned above.

Top-Level View  (Default)

See all the components that are in the Top-Level, i.e., that are not contained within any other components.

View All
To view all components, and all sub-components and groups that are in the model.
Note that when this view is enabled - it can take quite a long time to fetch all the components and it can make Sketchup tremendously slow until it's done.
On the bright side - You can stop the 'Fetching' any time by pressing on the button again to see Top-Level components only.
Once the fetching is done, the component thumbnails are cached in memory so the next time you open the In Model components they will load a lot faster!

Usually the In-Model views will refresh automatically when new components are created/added/deleted...  If, for some reason, something is missing, or you purged the model and the changes aren't visible, click to refresh, and you will see all the components as you would expect.
Select Instances
Select all the instances of the component definition in the current model context.
Save as
Save the component out into Window Explorer / Mac Finder.
Delete
Deletes the component definition and all of its instances in the model.
Faster In-Model Searching
When you need to search through a lot of In-Model components consider maximizing the In-Model tab window all the way to the bottom.  This can dramatically enhance search speeds.
You can also double-click on the divider between the In-Model tab and the folder tabs to quickly maximize the In-Model tab.
The navigation bar on the left makes it easy to move between open tabs.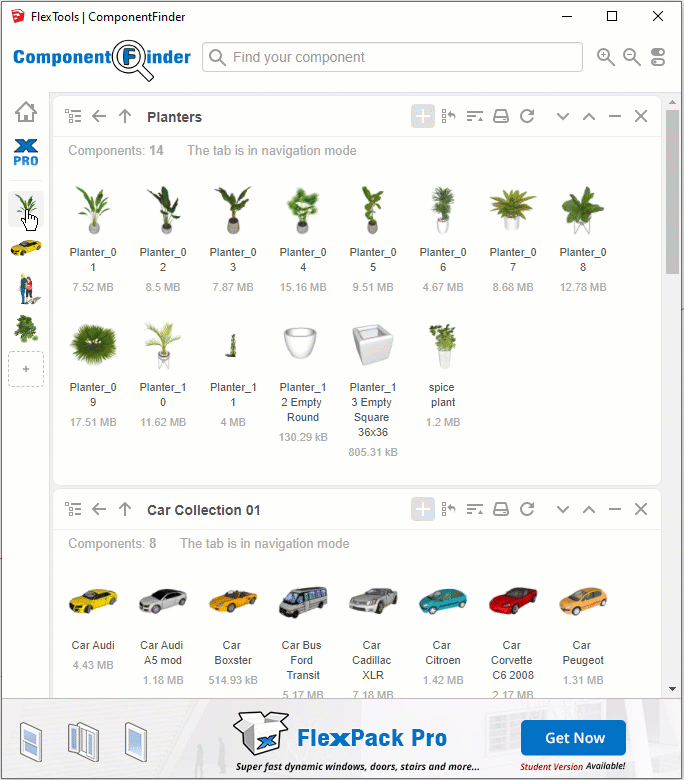 You can drag the icons up and down to change the order of the folders.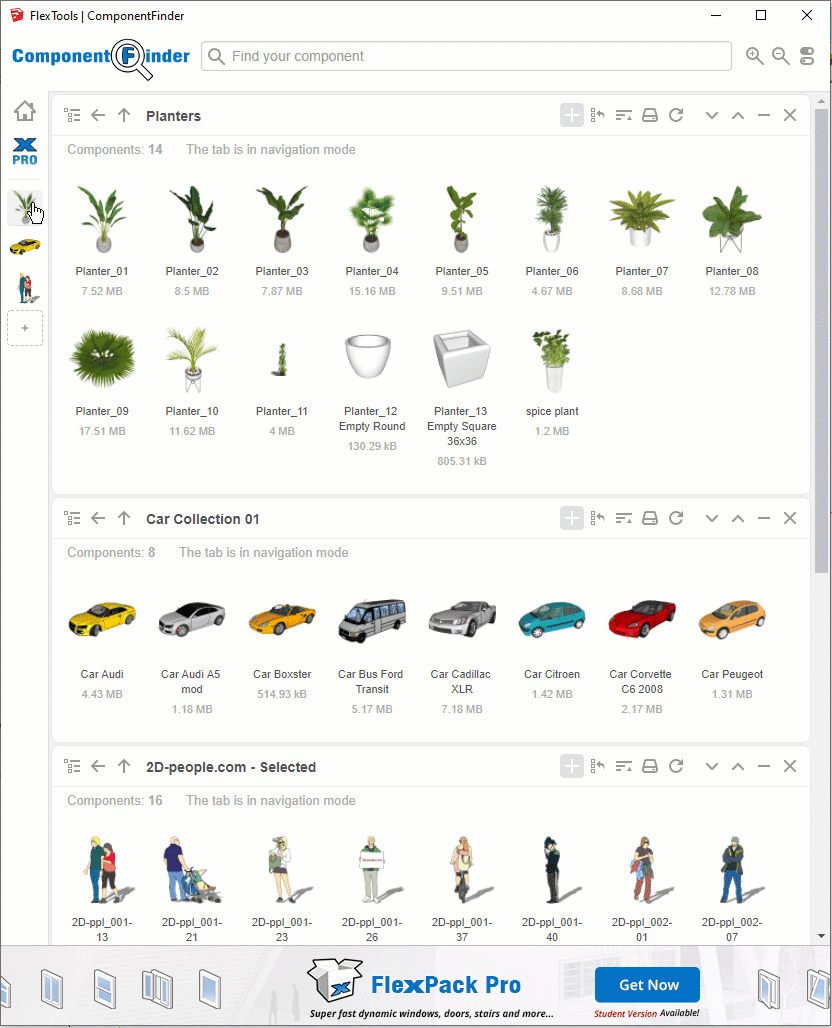 For those of you who have the FlexPack Pro package there is a special icon pinned on top of the bar, so any of the default Flex components can be pulled in directly from ComponentFinder.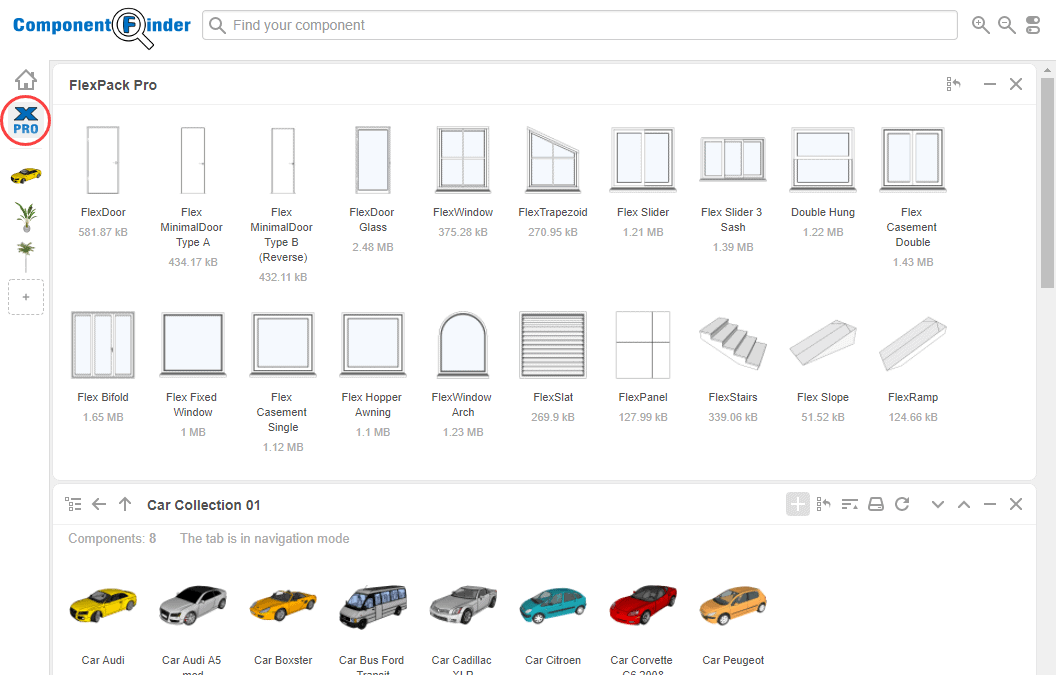 Access the default FlexPack Pro components directly from ComopnentFinder

Reach your recently used components in one click!
📌 If you need to find the original folder where a recent component is stored:
Right Click > 'Open Containing Folder in a New Tab'